Here are some pictures of some Polk County Sites. Just click on the thumbnail to go to the full sized version.


The West side of the Square in Bolivar, looking North, in 1886



The Cary Hotel in Bolivar, surrounded by the first automobiles in Bolivar. October 4, 1906.



The Courthouse in Bolivar
The old brick Polk county courthouse was completed in 1842. A suspended carbon arc light can be seen in the foreground.



The Polk County courthouse in Bolivar, was built in 1907 of Indiana limestone, and was received precut. Mule teams helped lift the larger stones.

A postcard showing banks on the square in Bolivar. Postmarked, Nov 1912.


A statue of Simon Bolivar, the great liberator of South America, is in Neuhart Park. The statue was a gift of the Republic of Venezuela to the city of Bolivar. July 5, 1948 was Bolivar's big day in history as President Harry Truman and Venezuelan president, Romulo Gallegos were in Bolivar to dedicate the statue

Humansville, Main Street, looking North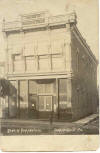 Humansville Bank, 1908