Letters and More
---
Mitchell Family Letter -- April 16, 1850
The following is a transcription of a letter written by the Rev. James Mitchell (of Polk Co., Missouri) to his children in 1850. His youngest daughter, Caroline, (19 years old and presumed to be still living at home) added her own paragraph, apparently directed to her elder sister, Fannie Mitchell Winton, who then resided in Texas with husband, John F. Winton.
The structure, grammar, and spelling are left unchanged from the original letter. Punctuation was added, where absolutely needed, for the sake of clarity.
April 16 th 1850
Children, I reecived your letter yesterday.
I was glad to hear from you.
This is to let you know that your Mother was taken with a Fit of Epolepsy on the 15th of February and lived untill the 29th of March & took a nother & Died in 30 minnits.
I had devided the land with William [unknown person] & hee had built & mooved on it. I have the two girls [Rebecca & Caroline] & George's James [his bother's son] with me.
Thomas [one of his sons] is traveling in the Cherokee Nation. Direct letter to Cherokee Nation, Flint Post office.
Morris R.s [his brother Jesse's son] Wife died 1 Day before your Mother.
Wee & the friends are in commom health. Prepare to meet your Mother whare sorrow never comes & Friends never part. She had nothing to do but die, all was well.
I was born october 19 1786
Your mother march 4 1793
George august 12 1809
Morris Jr. september 17 1810
Betsy may 30 1812
Ben september 23 1813
John January 7 1815
Tomy April 13 1816
Fanny February 12 1818
Sally october 3 1819
(James) Wyly November 27 1821
(Adam) Clarke June 5 1824
william february 27 1826
Polly october 23 1828
Caroline may 24 1831
Rebecca July 21 1832.
-- James Mitchell
Dear affectionate sister, I am sorry to here that you have got so far that you have give out ever comming back to see us. I would be very glad to see you all. I would like to come an see you but cant leave home. I have got to be old and stay at home evry knight. I make a right smart by sowing. I have made several coats. you may be shure we are very lonesome. I would like for some of the children to come an stay a while with us.
'Becca [her younger sister] is weaving. as for my part, I expect to stay here a while. I dont think much about marrying, I will do the best I can. I have got a bed an some bed clothes and some other thing I would be glad for you to have. if it is so that we never see each other in this world, I hope that we will meet where parting will be no more. give my respects to john an tell him when he starts ugain, to start back and not go any further. you may give my respects to all the Children an tell them I want to see them. I must bring my letter to a close. wright to me son as you receive this. so no more but, remains your most truly affectionate Sister an aunt until death.
-- Caroline Mitchell
Submitted by: Don Mitchell SQ1852 /@\ aol.com
---
Humansville, MO
Nov. 7. 1880
Dear Children,
Your letter came to hand in due time & found us well as usual, this leaves us well. I was very glad to hear from you and to hear that you were doing so well.
I guess that I am in as good health as one of my age could expect, but I have got so that I cannot work nor take care of my place nor anything as it ought to be consequently I am going to sell all the stock that I have on hand, but one horse & Leroy & Minerva are coming here I am going to let him have the place rent free and the money I get for any things I will have to get anything I want. I am going to let him have the place a year at a time as long as I live and when I am done with it I want it sold and an equal divide made of the money. We had a letter from Sarah a few days ago and she is tolerable well. I was at the Richardsons yesterday they are well as usual, Richards will never be well, he has lived beyond my expectations now. Peter & Nancy Jane were over a while back she was not very stout, but I was over a short time ago & they were all well. Their oldest daughter taught a school this fall. Harriet & her folks were well a few days ago. Catharine just has Amanda living with her Kitty went out to Jack Oakses about a year ago & about six weeks ago she was married to a man by the name of Archy. ?James? folks are all well except Ruey she has another girl just one week old today, she is getting along first rate. Roy's are all well excep Carrie's eyes and she is getting so that she can see now, but she was totally blind for almost three months. ?Lives? are pretty good here now, money is tolerable plenty pork is selling for three & a quarter gross and other things in proportions.
Have you heard anything from your Aunt Milly, if you have & know anything of her be sure to write to me. Health is very good here now I do not know of any sickness near here. I believe I have written all the news.
Dear children I am old and have seen and end of many years, but I can still say that I have never seen an end of the goodness of God, I am still Heaven bound, want you all to strive to meet one in that dear home where the children and parents are never separated. If this were my last advice to you my dear children one and all it would be live for God and meet your dear parents in heaven. Much love to one & all. May God bless and save you is the prayer of your father.
James Rentfrow
Note: the following was written on the same letter from his daughter Hester Rentfrow
Dear Brother & Sister & family I will write a few lines to you as you said you thought I might write. I have answered all the letters you wrote to father soon after they were received. Don't forget what kind of a place I am filling I not only have to care for father's clothes and the cooking of proper food for him to eat but try to cheer his lonely hours. I also have Andy & myself to do for besides a host of company to entertain and cook for not only that, but father has others to write to but one thing I will do I will answer all the letters you write if you will write one every week. I think you ought to write often to father he gets so anxious to hear from you. I am truly glad to hear that Bob has married a good man & that he is a Christian. You did not say that she is but I hope she is. God bless you all & if we never meet in this world let us meet in Heaven. Hester
Note: John C. Rodgers and his wife Mary Rentfrow were living in Van Alstyne, Grayson County, Texas when they received this letter
---
Humansville, MO 6th Jan 1881
J.C. & Paley Rodgers
Dear Brother and Sister I seat my self to write you a few lines informing you of Fathers death he died on Sunday the 2nd of this month and was buried on Monday. he had been complaining of cold for a few days but on Saturday thought he was almost well. On Sunday morning was taken with a smuthering and in three hours was dead he died as near without a disease as any person I ever saw. He had disposed of pretty much all the personal affects he had. Roy Bennett had moved into the house so the land is disposed of for the present year all the children that is here think best to pay all debts and not have an administration as it would take what there is to pay the court. The connexion is well, let me hear from you soon and if you know George Hensons address give it in your answer to this.
Yours as ever
A.F. Renfrow
Note:
John C. Rodgers and his wife Mary Rentfrow lived in Van Alstyne, Grayson County, Texas when they received this letter.
---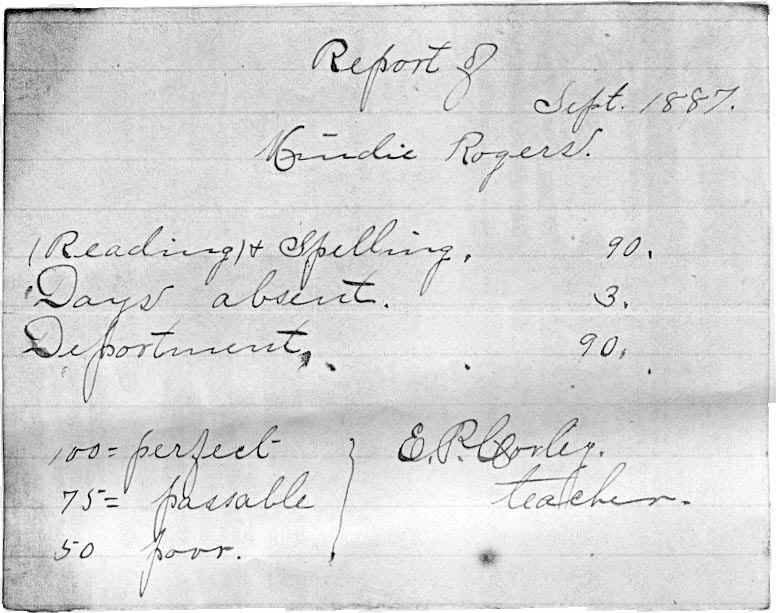 ---

Rogers Family Church Certificate.. Click to see full size.
Submitted by Carol Ansley cjansley @worldnet.att.net